Move Over Men, She's Got Balls
Women all over the UK are getting 'ballsy' to help raise money and awareness in the fight against male cancer this November.
Research conducted for Orchid, the male cancer charity, showed that 62% of men would rather their partners checked them1, that men are less confident at detecting testicular cancer than their partners are at detecting breast cancer2 and that 1 in 4 men would rather tell their partner or mum than their GP that they found a lump3.
Women play a vital role in the fight against male cancer, as William Gingell found out when he was diagnosed with testicular cancer, aged 17, after his girlfriend Lucy found a lump: "I really owe my life to my girlfriend, it was her who found the lump in my testicle and without her encouragement and support I know I would have been far too embarrassed to make an appointment with my GP to get it checked out."
To encourage women to join in the fight, Orchid is collaborating with Ladbrokes Bingo on a new awareness campaign dubbed #ShesGotBalls. Women are being encouraged to take selfies of their 'ballsy' adventures, post them onto Twitter using the hashtag #ShesGotBalls and text SGBS15 £3 to 70070 to make a £3 donation. Ladbrokes Bingo will donate £1 to Orchid for the first 2000 texts sent and all selfies using the hashtag #ShesGotBalls will feature on Ladbrokes Bingo's online gallery here: bingo.ladbrokes.com/en/news/shes-got-balls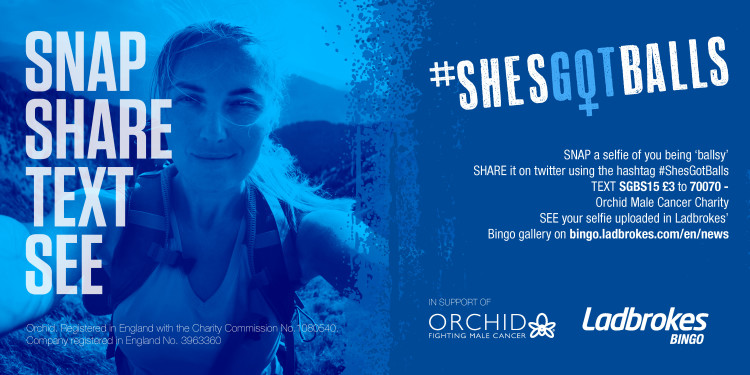 Commenting, Rebecca Porta, Chief Executive of Orchid said: "This new campaign encourages women to "get ballsy" and help the men in their lives detect signs and symptoms of testicular cancer. We are delighted to be working with Ladbrokes Bingo and together we can help tackle male cancers which affect over 43,000 men every year."
For more information on the campaign, please visit the Ladbrokes #ShesGotBalls web page and for information on the signs and symptoms of testicular cancer please visit yourprivates.org.uk
References
Orchid Male Cancer Survey (2011).
ComRes Public Survey (2015).
Orchid Male Cancer Survey (2014).