Confidential male cancer helpline 0808 802 0010
Patron's Statement
Steve Davis OBE, Orchid Patron
It was with great pleasure that I accepted the role of Patron of The Orchid Cancer Appeal in 1996. I very much admire what has been accomplished so far and hope that I can continue to help The Orchid Cancer Appeal achieve its aims.
I feel, along with many others, that men need to be aware of the importance of self- examination and regular health check-ups just as women are. I hope that together we can break down the barriers of embarrassment that men have when discussing male cancer so that the disease is caught much earlier.
It was exciting to be involved in starting The Orchid Cancer Appeal, and I look forward to helping the appeal reach its objectives in Phase Two.
I hope that I can be of use persuading many people to join the campaign, be they public figures or just the everyday man on the street – after all, we should bear in mind that at the end of the day, cancer affects people from all walks of life.
I would like to extend my gratitude to all who have supported The Orchid Cancer Appeal so far. I hope we can continue to have your support in fighting the battle for men.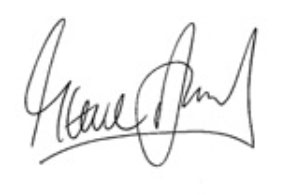 Steve Davis OBE
Patron
The Orchid Cancer Appeal