Malcom Wilson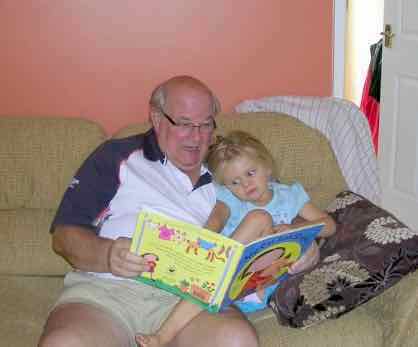 Malcolm has led – and continues to lead – a very full life and as he references it, to be the best and most fulfilled man that he can. Previously this included working in a drawing office and later as a lecturer in engineering. He enjoyed school sporting activities such as athletics, cross country running and rugby union and was later very involved as a rugby union player and, after retirement from playing, as a youth coach.
This is Malcolm's story:
"When I was first diagnosed with prostate cancer, both my family and I were devastated. Having researched it, the prognosis I was given agreed with what I had read, which was a 50% chance of living more than three years. I told the consultant that I would beat it – the consultant urologist involved did not comment.
When you first hear the word 'cancer' – you immediately associate it with – death.
At the time of my diagnosis, my wife was a practising nurse and had had experience within an oncology ward. She noticed that increasingly I had to go quickly to the toilet, often five times during the night. I just pushed it to the back of my mind – and associated it with my rugby playing days, and after the game, drinking a few 'shandies'. My wife strongly suggested that I should visit the doctor for a routine PSA blood test, just to be sure. I wondered if I was wasting the doctor's time. Following the blood test results, the doctor invited me to take up the appointment that he had made for me that same evening. Not the most reassuring occurrence!
A referral and biopsy followed, which confirmed the diagnosis of prostate cancer. An appointment with an oncologist was made after three months of hormone therapy treatment.
During this time, my wife and I did a lot of research. Due to the nature of my prostate cancer, external beam radiation was recommended to minimise the spread of the cancer cells. I informed my oncologist that our research had uncovered another option, 'high dose brachytherapy' that had better results than external beam radiation. There was a consultant at Hillingdon, near London, called Professor Peter Hoskin, who had undertaken development work into this new treatment and so my wife and I travelled down to Mount Vernon hospital to visit him and discuss my suitability for this treatment.
Subsequently, I was treated with 35 daily doses of external beam radiation and then, after a two week rest, I travelled down to Hillingdon to be treated by Professor Hoskin using two doses of high dose brachytherapy.
That was 16 years ago, and I have been told that I am expected to live to be about 80 years of age. I am 74 years old and so will settle for that, for now! All the medical professionals I have been in contact with have been extremely supportive and I cannot thank them highly enough.
Like many, I hadn't come across the Orchid website but I am so pleased that I have. They are a wonderful small charity who are there to raise awareness of the signs, symptoms and risk factors of all male cancers and to support the 55,000 men diagnosed with prostate, testicular or penile cancer. They have a wonderful confidential specialist nurse helpline. I am therefore delighted to help them where I can and will shortly be featured in their new short film'."