'It's All About Cancer' by Julie Romani.
Published: 8th June 2015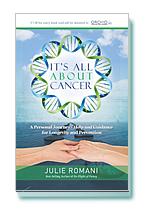 Best–selling author Julie Romani sadly lost her husband, Joe, to cancer on 13 January 2011. Following the initial diagnosis, they set out on a journey of discovery to defy the terminal prognosis of two to five years. This book is the culmination of their findings, both medical and alternative, the story of their love, joys and heartaches threaded through the pages.
To find out more please visit: http://www.itsallaboutcancer.co.uk/