Workforce Health & Wellbeing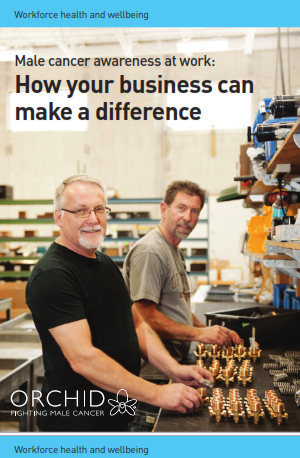 We are delighted to announce our Male Cancer Awareness at Work Programme
We are committed to ensuring we can provide places of work with the highest quality of male cancer awareness and support. That is why we are excited to announce the launch of our new virtual Male Cancer Awareness at Work programme, so we can deliver even when face to face provision is not possible.
Research shows that when it comes to their health, men do less well than women. Despite this, men are also less inclined to seek help or advice from medical professionals. Workplace wellbeing initiatives that effectively engage with men can have a positive impact and can help address numerous issues and concerns that may cause men not to tackle their health worries.
The workplace provides a excellent opportunity to promote awareness in a team environment and enjoy the camaraderie that comes with it.
For further details please download this brochure.
If you would like to know more about the programme please contact Lucy Noakes at lucy.noakes@orchid-cancer.org.uk